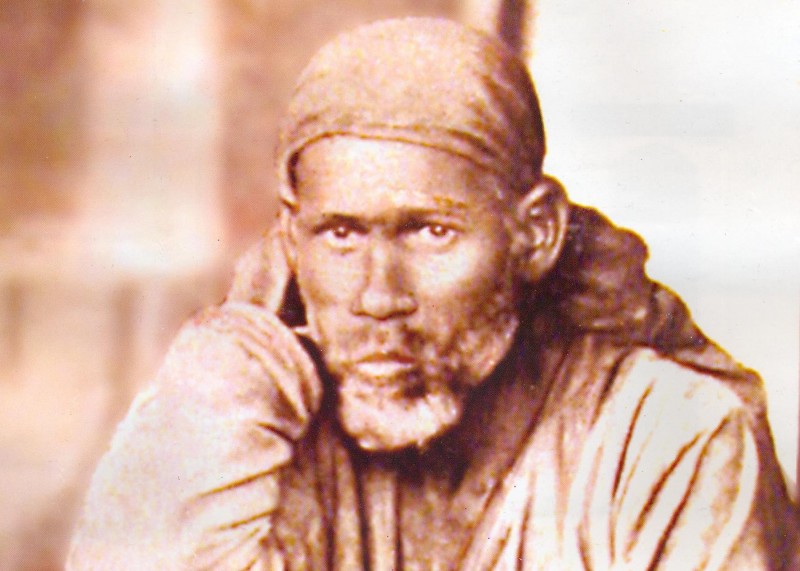 Om Shri SadGuru SaiNathaya Namaha!
2nd story from Shri SaiSatCharitra Chapter 2
Last story we read about the Sai Baba's Teachings to Hemadpant.  Today we will read the interesting story of how the author Govind R. Dabholkar happened to reach Shirdi after some initial delaying obstructions of mind.
Dabholkar's mind's wavers for Shirdi Visit
Govind R. Dabholkar was mischievous, tend to talk a great deal, would criticise in abusive or angry and insulting manner and ridiculing. He was untouched by wisdom. He had no idea of the importance or greatness of a SadGuru. Full with vanity he prided in his own wisdom and he was always eager for argumentation.
He believed without any doubt that yet, so powerful was his line of destiny and by sheer good fortune, he had the darshan of Sai's Lotus feet. Could he have reached Shirdi  without some indebtedness with the devotees Kakasaheb Dixit and Nanasaheb Chandorkar? he use to feel it many a times.
Kakasaheb kept on pressing him for a visit for Shirdi and one day  it was fixed. But on the very day of departure it was canceled. Govind Dabholkar had a close friend. He had been initiated by a Guru and was a devoted Guru-putra. With his family he stayed in Lonavala which had pleasant and healthy climate.
His son who was strong, healthy and virtuous got caught by the with high fever and was seriously ill. All the possible human remedies were tried. Charms, chants and religious rites were also tried for his recovery. At  the critical juncture the guru was made to sit besides him to avert the calamity. But in the end the son passed away.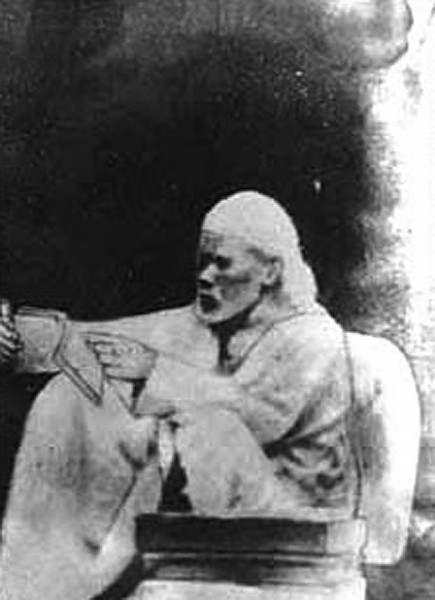 How strange the life is. Whose is the son? Whose, the wife?  So many things happen just because of karma. Destiny, which is result of past karma seems unavoidable. When Dabholkar listened to this sad news, his mind was dejected and agitated. "What is a use of a Guru if he cannot save a son? "  Such overwhelming power of destiny and karma weakened his firm decision of visiting Sai Baba's darshan. It became an obstacle for his visit to Shirdi. If whatever destined is bound to happen, why should I go to a guru?
Why should I go to Shirdi? Just see at the condition of my friend. is this the profit of guru's company? Can guru do anything against the destiny? Why should i leave my home comforts and run after a guru? Why should I invite hardships leaving this happy environment?
If the destiny is determined beforehand let us endure it be it pleasurable or distressing. What is a need of a guru if he cannot avert it? These kinds of thoughts made his Shirdi visit cancelled.
But how much ever one may try to oppose, the events of life about to happen according to the merits or otherwise does happens. Nothing can prevent the working of destiny. And it was this that dragged him to Shirdi.
Nanasaheb Chandorkar extracts the promise for Shirdi visit from Dabholkar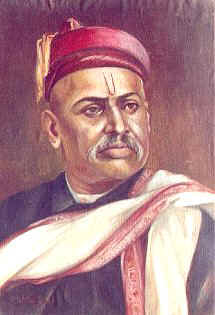 Nanasaheb Chandorkar, who was sub-divisional officer was set for a tour to Bassein (Now Vasai). He reached Dadar from Thane and was waiting for his train at railway station. The train was to arrive after one hour, so he decided to utilise that time for some useful purpose.  As soon as he got this strong urge a train for Bandra arrived at the railway-station and he boarded it.
Upon reaching Bandra station he sent a word to Dabholkar and he went there to meet him accordingly. At once Nanasaheb opened up the topic of Shirdi visit. He said, 'When will you consider to go for Sai's darshan? Why all this slackness about visiting Shirdi? Why this delay? Why can't you firmly decide for it?
Nana's eagerness put Dabholkar in shame. He told about his wavering mind. Nanasaheb earnestly and lovingly gave him sound advice. And thus the desire to visit Shirdi revived once again in Dabholkar. Nana extracted the promise from him for Shirdi visit and only after that did he go. Dabholkar too made a firm decision to  leave at once and went to his home.
He packed his luggage and made all necessary arrangements. Same evening he set out for Shirdi. He bought the ticket for Dadar thinking that the train for Shirdi  will halt at Dadar. He boarded the train. As the train started to move slowly a Muslim swiftly entered his compartment. Seeing at the luggage the muslim asked him, 'where are you going?' 'I will go to Dadar and catch a train to Manmad.' Dabholkar replied. He at once alerted him, 'Do not get off at Dadar. The mail does not halt there. Go straight to Victoria Terminus.'
Buying a ticket upto Dadar itself seemed to be an obstacle in the journey to Shirdi. Had not been  alerted Dabholkar would have failed to board the right train and again the evil thoughts might have attacked his wavering mind.
But that day the lucky chance for Sai Baba's darshan had suddenly taken hold of him with force. Hence such a preventing incident in between was averted.
Hemadpant's first visit to Shirdi and effect of Sai Baba's darshan on him
Next day at 10 o' clock in the morning he reached Shirdi.Bhausaheb Dixit was already waiting for him. It was the year 1910 and at
time Sathe wada was the only place for the pilgrims to stay in Shirdi.
As he alighted from the tonga, his heart was so eager to have the darshan of Baba, that he could hardly wait to fall at the holy feet of Sai Baba. At that moment, Tatyasaheb Nulkar, one of loved devotees of Baba had just returned from Masjid. He said, 'Hurry, and take Baba's darshan immediately. Baba with his devotees have come near the corner of wada. Come as you are for a dhul-bhet, first for he will set for Lendi.
'You can have bath afterwards. When Baba returns, you can go to Masjid and have His darshan with comfort once again.' Hemadpant rushed to where Baba was and he could hardly contain the joy within as he prostrated at Sai Baba's feet. He had listened much about this from Nanasaheb, but what he saw and felt personally was much more than that. With Sai Baba's darshan he considered himself blessed and he felt that his eyes have fulfilled it's purpose.
Never before had he heard of or seen Sai Baba's divinely attractive figure. Seeing it now, his eyes calmed; hunger, thirst, everything was forgotten; all his senses stood still. The experience of touching Sai's sacred feet. The kind enquiries He made after him. Hemadpant felt the abundance of fullness in his being at the highest of his life.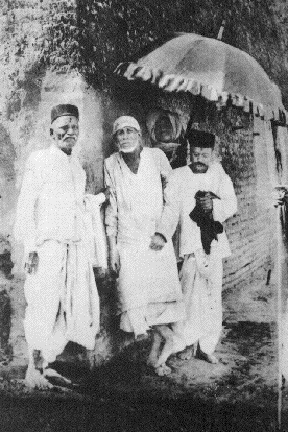 Safely and securely he felt indebtedness to all those to whom he owed this saintly association, which has delighted each and every fibre of his body and mind. Only those who help in spiritual progress are true kith and kin. No other relatives or friends can be like them. This he what he felt in his heart. He was morally bound to them and did not know how to to repay them. So he could only lower his head in reverence with folded hands to them.
He was blessed with Sai Baba's darshan. All the doubts of his mind vanished. He had Sai's company and he experienced bliss. Such was the wonderful result of Sai Baba's darshan. It brought about total change in his nature. Whatever the impressions of past karma will be wiped out. Gradually feelings of intense disgust or dislike will grow for the sensual and worldly pleasures. Sai's graceful glance destroyed the sins accumulated since many past births and a hope that his holy and sacred feet will bring him to eternal bliss arose.
By very good fortune he had found Sai's feet which are like Mansarovar lake, which will transform him from a crow to a swan. Sai Baba is a spiritual head, absolute yogi and Paramahamsa,  the most excellent among the saints. He completely destroys the sins and sufferings. His sacred company purified Hemadpant greatly. The meeting with Sai Maharaj was the result of the accumulated merits of many births he felt.
Once Sai penetrate and spread in your vision whole creation appears to you as Sai filled.
<<<Previous Story                                                                         Next Story>>>
Back to the list of stories from Sai SatCharitra