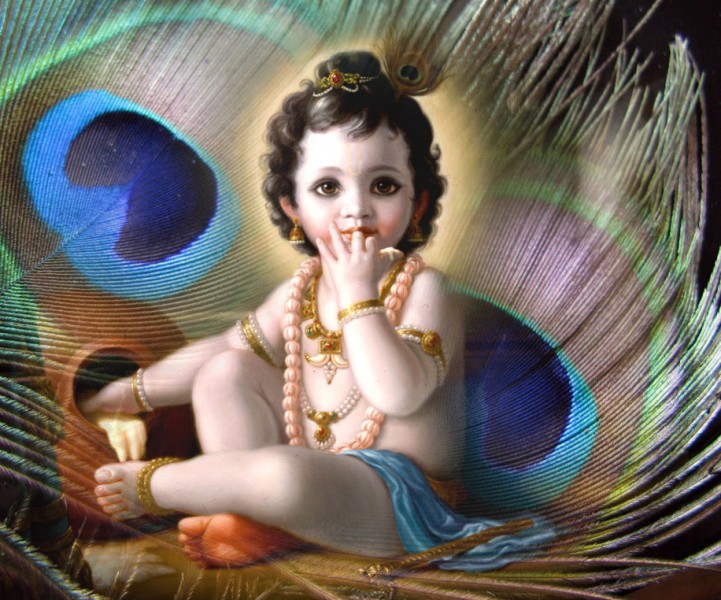 Janmashtami the birthday of Lord Krishna is one of the most passionately celebrated Festivals of India. It is loved not just by the devotees of Shri Krishna, but among most of the Hindus alike.
Bhajan singing, listening and dancing to the tunes of bhajans is one popular way of kindling the spiritual ecstasies. Music and bhajan singing has been a great tool to connect with the divine, since centuries. Not only in India and Hindu religion, we will find music as a powerful tool to connect with divine in every religion on earth.
Singing the glories of God, singing the different names of God along with good vibrant music with Bhava (feelings towards divine) is surest and easiest way to connect with divine. All the notable saints and Gurus have appreciated and made it a practice among their devotees and disciples for regular singing of bhajans.
So the celebrations of Krishna Janmashtami will be incomplete without the soul elevating bhajans.
Also this highly spiritual day is celebrated by listening and singing the name or a short mantra of lord Krishna along with the music. This is also popularly known as naam dhun or mantra dhun.
Along with the choicest of Bhajans of Krishna and songs we will also collect good mantra dhuns on this blog and link them on this post. There are so many bhajans of Krishna available. Here we have made a choicest of collection. This bhajans are from different albums. We are sure that each of these albums have great songs. So the albums of these collections should be enough for great spiritual and elevating celebration of the Janmashtami, the birth of Lord Krishna.
Bhajans of Krishna – The choicest collection for Janmashtami
All of the links below contains video, Lyrics in English and Hindi, and link from where you can download quality mp3 files.
Nand Ghar Anand Bhayo mp3 Download – This is the must song considered by most of the devotees. It is sung exactly at 12 O Clock in night, the time of Krishna's birth.
Achyutam Keshavam Krishna Damodaram – Achyutam Keshavam Krishna Damodaram is a popular song sung by Vikram Hazra whose bhajan concerts are known to give spiritual ecstasies to the audience.
Maiya Mori Main Nahin Makhan Khayo  – This popular song is sung by the legendary bhajan singer Anup Jalota. We have given and recommended the recording of live performance, which we feel is too good. Also check out other songs from the album.
O Kanha Murli Ki – This modern song from the Hindi TV show 'Yeh Rishta Kya Kehelata He' has gained immense popularity.
Radhe Radhe Shyam – Yet another popular and our favourite sung by the devotional Vikram Hazra.
O Radha O Krishna – A very good heart touching song from an animated movie called  Krishna Kans Vadh.
Stay tuned.