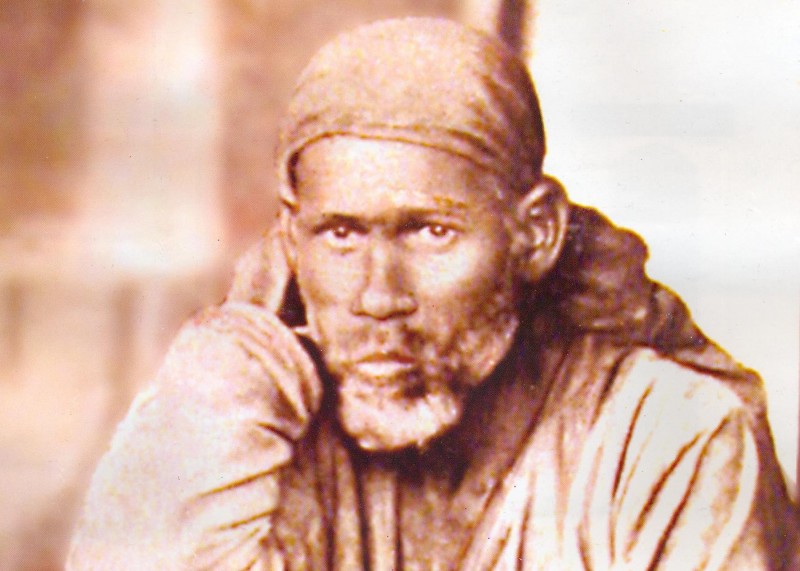 Om Shri SaiNathaya Namaha!
Last post was about Very old pictures of Gurusthan and Sathe Wada in Shirdi which we made it because of  the mention of Gurusthan in Sai Baba's first appearance in Shirdi. We are going through the stories from Sai SatCharitra chapter 4.
Next is the interesting story about :
Making of Dixit Wada in Shirdi
This story starts from verse 147.
Dixit's first meeting with Sai Baba
From the very beginning Dixit was known for his virtuous deeds and he was very devoted and had great faith. The seeds of his spiritual progress were sown while his temporary stay in England. Here the listeners might ask, how, instead of sacred places of pilgrimage like Mathura, Kashi or Dwarka, England became the start of his spiritual journey? And the rising of this question is quiet natural.
Dixit had already accumulated religious merits by his pilgrimages to Kashi, Prayag, Badrikeshwar, Mathura, Vrindavan, Dwarkapur etc. Moreover, due to the good deeds of his father, his rare good fortune and the outcome of the good deeds of his past births, he got the privilege of Sai's darshan.
However, the root cause became an injury in his leg which happened while he slipped while in England and it resulted in lameness. Although in the outward appearance it looked like a misfortune, in reality it was auspicious because it became the cause of his association with Sai. It was indeed the fruits of his good deeds.
Dixit's wish for what to receive from Sai Baba
Dixit happened to meet Chandorkar from whom he heard about the fame of Sai. Further Chandorkar said, 'You will be astonished by
Sai's Darshan and the lameness of your leg will disappear.' But Dixit was not much worried about the his lameness. He said that he was much more interested that the lameness of his mind gets removed by Sai's darshan. What is the transient human frame but a bag of skin, blood, flesh and bones which is but meant to function in the material world. It does not matter much if the leg remains lame.
It was on 2nd of November 1909 that Dixit had the great fortune of meeting Shri Sai Baba in Shirdi and had a meritorious and purifying sacred darshan. Later on in the month of December of same year he again visited Shirdi. This time he thought of staying on for longer periods in Shirdi. His first thoughts were of to sell off 25 shares of his company to make a shed with a corrugated iron roof, so it would be useful for other pilgrims also. But later on he decided to build a more sophisticated and spacious wada. The very next year the foundation stone for it was laid, to mark the auspicious beginning of the making of the wada.
As the luck would have it, Dixit's brother who normally would not have come even after an invitation had arrived on the day of  the auspicious muhurat. Shri Dadasaheb Khaparde had come to Shirdi alone, much earlier and he was finding difficult to get the permission from Sai Baba to return home.
Both of them got the permission on the 10th of December. Dadasaheb to return to his home and Dixit to lay the foundation stone for the wada. Another sacred event also marked this day. the bed-time arati Shej-Arati also started on this day. Later in 1911 on the auspicious day of Ramnavami the Ghruhapravesh ceremony (hose occupying ceremony) was performed with all its usual rites.
Later on Buti's wada was built with lavish expenditure. Sai Baba's sacred body was laid in this wada after His Mahasamadhi so the money was well utilised. So three wadas were erected in Shirdi where there were none before. Out of these Sathe Wada was most utilised by the pilgrims. Sathe wada had also another significance, on the spot which it was built, Sai Baba had raised a beautiful flower garden with His own hands and labour.
Notes : Khaparde's was then allowed to go two days later on 12th of Dec 1910. Khaparde used to write a personal diary which gives us some glimpse of the Shirdi during those time. However in the first visit there is no mention of Morning arati(Kakad), afternoon arati or even the night Sheja-Arati. In his second long stay that started from 6th December 1911 we read the mention of aratis.  You may like to download Khaparde Shirdi diary pdf.
In a wonderful book Sai Baba The Master written by Pujya Acharya Sri Ekkirala Bhardwaja we can read wonderful extracts from Khaparde Diary which mentions Sai Baba.
<<< Previous Story                                Next Story >>>
Back to the List of Stories from Shri Sai SatCharitra