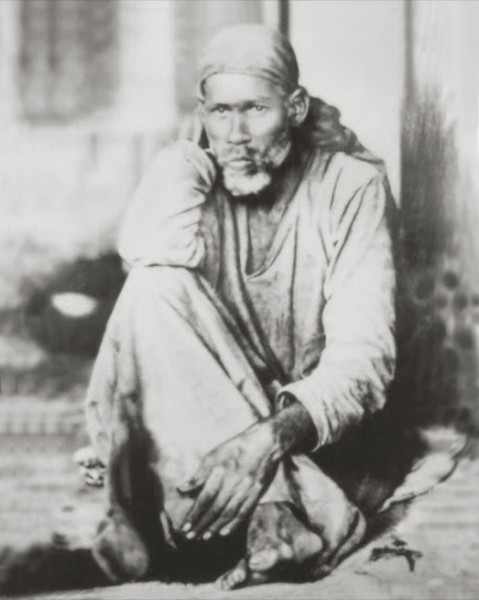 Om Shri SaiNathaya Namaha!
We are moving with the stories from Shri Sai SatCharitra chapter 5. Last story we went through was Reappearance of Sai Baba in Shirdi.
Next story is :
Naming of Sai Baba as Sai
This story starts from verse 25.
People call Him Sai Sai, how did he got the name? "Welcome Sai" is the reverence with which he was called and this name remained. It happened on the day Sai Baba arrived with the marriage party. The party alighted under the banyan tree. It was in Mhalsapati's yard outside the Khandoba Temple. During that time this yard belonged to Mhalsapati then it belonged to Aminbhai.
The bullocks were unyoked in this yard and all the marriage guests alighted here. Baba too alighted. As this youthful fakir alighted Mhalsapati went forward and said, "Welcome Sai". From then onward the name became his proper name.
He then smoked a Chillum in the yard and went to Masjid and stayed there. He enjoyed the company of Devidas and was quite happy in Shirdi. Sometimes he would sit in Chavadi, sometimes with Devidas' company. Sometimes in Maruti Temple, absorbed completely in the Self.
Devidas was staying in Shirdi much earlier than the time Sai Baba came. Jankidas Gosavi of Mahanubhavi sect came a little later.  Maharaj (Sai Baba) would sit and talk with that Jankidas. Or Jankidas would go and sit wherever Maharaj would be. Both of them were very fond of each other and would meet regularly. Their kinship was a source of pleasure for everybody in Shirdi.
Gangagir's clear and forceful utterance for Sai Baba
Gangagir, a famous householder devotee from Putambe would regularly visit Shirdi. Gangagir was greatly surprised in the earlier days. When he saw Sai Baba carrying water from the well in earthen pitchers, with both His hands. But later when he saw Sai face to face. He said, "Blessed is this Shirdi and fortunate too, to have a jewel among men associated with Her. Today he carries pitchers on His own shoulders. But this is no ordinary figure! It is because of the great accumulated merits of this soil that He has come here." And he said this in a clear forceful tone.
What Saint Anandnath said for Sai Baba 
Another well known saint, Anandnath had also predicted that He would perform miraculous deeds.
Chillums that Sai Baba used
Famous Anandnath had established a monastery in Yeola. He came to Shirdi along with some people of Shirdi. Anandnath was disciple of great saint of Akkalkot.
When he saw Sai he exclaimed, "O, he is a diamond. A veritable diamond! Today he might be lying neglected in a rubbish heap. Yet he is undoubtedly a diamond and not a piece of flint!" This were the words of a great saint when Sai was at a tender age. "Remember my words. Later on you will be reminded of them." Thus prophesying he retuned to Yeola.
<<< Previous Story                                 Next Story >>>
Back to : List of Stories from Shri Sai SatCharitra.
Other pictures related to this stories of Sai Baba