O Radha O Krishna Video Song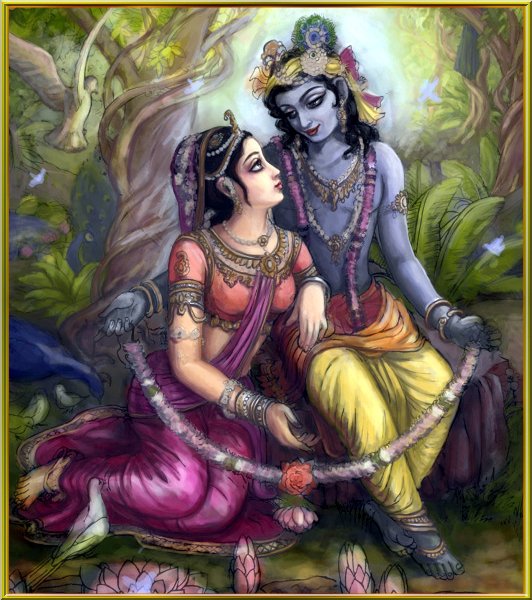 Listen to the video song O Radha O Krishna, from the Hindi movie (animated) Krishna Kansa Vadh, a Krishna movie for kids or children. This movie was shown on cartoon network tv channel.
A good addition to Bhajans of Krishna (An Ideal  Janmashtami song)
Rough translation or meaning of O Radha O Krishna – This is a  love song.
O' Krishna, (Lord Krishna is called with love.)
My beloved
Love of my heart and my soul mate.
Come on the banks of river Yamuna, O' beloved.
Krishna (Male voice)
You are the redness of the rising sun
and I am the early morning.
You are chakori (A bird known to gaze continuously at moon enchanted by it), and I am the moon.
In the boat of life we are companions traveling together.
Radha (Female voice)
From births i am Yours, and will be forever Yours.
For your love, if i have to suffer pains, i will suffer the pains.
And, i wish not a moment of those pain of our separation passes by.
O Krishna O Radhe Song Lyrics in English text.
O Krishna, Mitwa hamare (2)
Dil ke ho pyare, saathi hamaare,
Mitwa ko pyare,
Yamuna kinare aajaa Kanha o Kanha
Repetition of above para in female voice.
Oh Radha (Male voice) ! O Krishna ! (Female Voice)
Subah ki tu laali, main hun saveraa
Tu hai chakori me, chandaa hu teraa
Jivan ki naiyaa ke saathi sahaare,
Mitva hamare …….
Janmon se teri hun, Teri rahungi (2)
Sehene pade jo, dukh bhi sahungi
Ek pal bhi ab to naa guzre vo saare
Mitva hamare ……………
O Krishna O Radhe Lyrics in Hindi or Devanagari Script
ओ कृष्ण ! मितवा हमारे (2)
दिल के हो प्यारे, साथी हमारे,
मितवा को प्यारे,
यमुना किनारे आजा कान्हा ओ कान्हा
ऊपर के शब्दों महिला की आवाज़ में
ओ राधा (पुरुष आवाज में) ! ओ कृष्ण ! (स्त्री आवाज में)
सुबह की तू लाली, में हूँ सवेरा
तू है चकोरी में, चन्दा हूँ तेरा
जीवन की नैया के साथी सहारे,
मितवा हमारे …….
जन्मों से तेरी हूँ, तेरी रहूंगी (2)
सेहने पड़े जो, दुःख भी सहूंगी
एक पल भी अब तो ना गुज़रे वो सारे
मितवा हमारे ……………