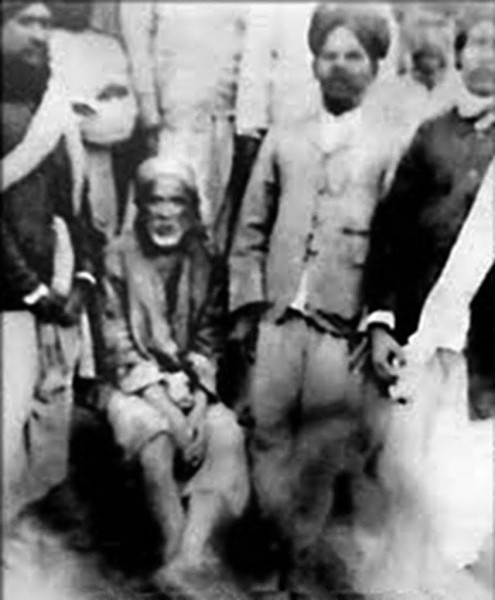 Om Shri SaiNathaya Namaha!
Last we went through a story from Shri Sai SatCharitra Chapter 1 
This is the first story from chapter 2 of Shri Sai SatCharitra
Hemadpant's heart yearns to write Sai Baba's life-stories
Sai Baba's wonderful story of freeing Shirdi village from cholera epidemic had made an impact on Hemadpant. Since then his heart yearned to write the wonderful grace bestowing stories of Sai Baba.
Many a thoughts passed through his mind about writing them. Whether he was fit to write the stories about Shirdi Sai Baba and that should he add more to already few books written on Baba.
He could not get enough courage to ask the permission for the same. So as Madhavrao came up the steps of Masjid, he asked Madhavrao to speak out his noble desire to Sai Baba and get His consent.
Madhavrao noticed that there was nobody to talk with Baba at that time. So he said, 'Deva, this Annasaheb wants to write your life-story according to his ability. He wants your permission. Don't say I am a mere fakir, wandering from door to door for alms. Eating bhakhri with or without vegetables. Why life stories for such a one? Do not say such things about this diamond, It must be set in appropriate socket.
Whomsoever it may be. Your permission is absolutely needed. He will write if you give him co-operation. Your grace will write through him, vanquishing all the evil forces. Only with the blessings of saints can composition of a sacred book can begin. Without your grace the writing will not proceed smoothly.'
Sai Baba gives His blessings and permission to write His life-stories
Knowing the inner most wishes of Hemadpant the compassionate Sai Samartha said, 'His wish will be fulfilled.'
Listening to this Hepadpant bowed placing his head on the holy feet of Sai Baba. Sai the Master, expert in all the systems of faith and worship, and the one who is the saviour of all His devotees gives him the prasad of Udi and placed His boon bestowing hand on his head.
Sai Baba took pity on Hemadpant, purified his restless mind and gave him courage.  After knowing his pious desire Baba said, "Make a good collection of stories, experiences and talks. It is better that you maintain records. The writer is a mere instrument. I will have to write it myself.
My stories I shall write myself. He shall subdue his ego and offer it at my feet. To the one who behaves in this manner nor will I help him only in writing but will reside in his home and help him. When the ego diminishes and finally vanishes, then I will dwell in him and write with my own hands.
When listening and writing is done with this thought then the work will be done by myself. He will only be the instrument.
Baba gives vital tips for writing His life-story and also speak about its reward
Certainly keep the records wherever you are, inside the house or outside, or wherever you may be, think of me and my stories again and again, and you will enjoy peace. Listening to my stories, narrating them to others in kiratn, contemplating on them will increase love and devotion for me. The love and devotion will destroy ignorance. I remain enslaved forever wherever there is faith and devotion.
The devotee will get self-realisation. The jiva(Atman)  will be in tune with the Shiva(Brahman) ; he will comprehend the Incomprehensible. The Supreme spirit will reveal itself to him. Such is the reward one will get from my stories. What more can one ask for? This is the aim and goal of life according the Vedas. Attaining this the devotee's life will be enriched.
Maya and ignorance are in plenty wherever heated arguments prevails, the mind is continuously engrossed in the thoughts which cannot purify it. But it can harm it greatly. Such a person is not fit for Self-Realisation.  He is surrounded and  swept by the ignorance. He cannot enjoy happiness either in this world or the other world, and at all times he is unhappy.
One should not stubbornly argue to prove one's point of view nor to refute other's viewpoint. The arguments over two different viewpoints are of futile and unnecessary efforts.
<<< Previous Story                    Next Story : Sai Baba's teachings to Hemadpant
Take me back to the list of stories of Sai Baba from Sai SatCharitra