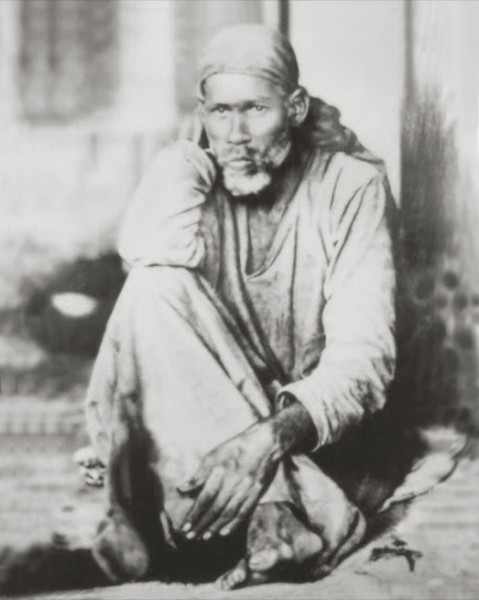 Om Shree SaiNathaya Namaha.
This, one of the rare original photographs of Shirdi Sai Baba is said to be the very first photo clicked. Kashiram Shimpi a very dedicated and one of the very first devotees of Shirdi Sai Baba, gets the credit for this wonderful photograph. Kashiram had to persuade Baba gradually for this photograph.
In this photograph we can see the young form of Baba. There is very good post describing physical description of Shirdi Sai Baba. If you read that wonderful post you will be able to have a glimpse of those physical characteristics in this wonderful photo. We can get a vague idea of His eyes from this photograph.
Some description of Shirdi Sai Baba's eyes
We will go through the description of Shirdi Sai Baba's eyes from various sources.
Why would people journey hundreds of miles from all over the Indian subcontinent to see him? It was because of his eyes! The eyes of this fakir were said to be light! Some would say, "Those eyes! … His eyes shine with more brilliance than the sun! … They are magnetic! … His eyes must be made of light!" However one described them, it was those eyes that eventually attracted thousands to him. Upon looking into his eyes one would bow in worship at his feet. source.
Shri Sai Baba's looks were very illuminious and eyes so bright and shining with Divya Shakti ( Divine Power) that no body could gaze at. If one would look at him for few minutes he would hang his head with tears in his eyes. His face was yellowish golden color and he was tall about 6 feet high. He had sharp nose with big nostrils. He was neither fat nor thin. His eyes were not black; they were blue and deep. They shown brightly and penetrating. People used to say that Sai Baba's eyes glittered in the night as the eye of the cat or tiger.' source.
Few more things we can notice in this picture
Sai baba passed most of His time in a Masjid of Shirdi. This Masjid was in a bad condition. This Masjid is popularly known as Dwakamai these days. It needed much repair work as it was neglected since long time before Baba selected it as His dwelling place. we can see uneven muddy floor on which Baba is sitting. This place is sanctified by presence of Baba. Reading the sacred Shri Sai SatCharitra at many places we come across Sai Baba's great respect for this place called Dwarkamai.
Let's read some of Shirdi Sai Baba's quote on the importance of Dwarkamai
This is Dwarakamayi of ours on which you are sitting. This wards off all danger and anxieties from her children. Highly merciful is this Masidi Ayi. She is the mother of those who place their entire faith in Her. If they are in danger, She will save them. Once a person climbs on Her lap, all his troubles are over.
Dwarkamai will save anyone who is in danger. Whoever sleeps in her shade will attain bliss.
Enter this Masjid mayi (Dwarkamai) and your goal will be achieved.
As soon as one climbs the steps of the mosque, suffering due to karma is over and joy begins.
As soon as one climbs the steps of mosque (Dwarkamai), sufferings due to karma are at end and joy begins. The Fakir (God) is very kind and will relive your troubles.
This is not a mosque, this is Dwarka (Dwarkamai) Those who seek refuge in Her will never be harmed.
Sai Baba in the earlier days used to wear green coloured scarf . On taking a close look on this picture we can notice the scarf which is not white in colour. So this must be the green coloured scarf mentioned in various sources about Shirdi Sai Baba earlier years.
It is said that Kashiram Shimpi first stitched a green cap and a kafni for Baba. We can read some good stories of Kashiram's devotion towards Baba on Sansthan's website and SaiAmritDhara.
Baba here is sitting in front of Dhuni which was not covered during those days. Also a water pot beneath the Nimbar can be seen.
Baba's face close up from this picture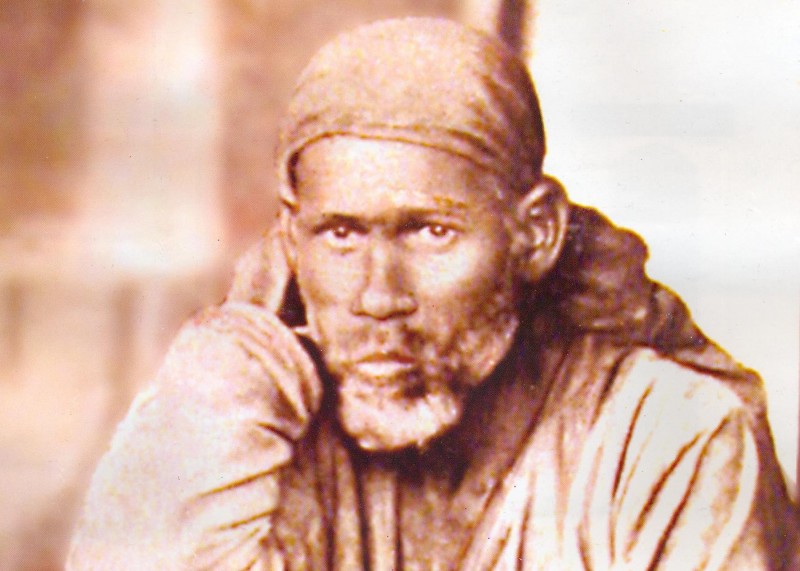 Om Sai Ram
Bow to the SatChitAanad Sadguru Sai Baba.