Om Shri SadGuru SaiNathaya Namaha!
Last post was the Story of Rohila in Shirdi. In the chapter 3 of Shri Sai SatCharitra the story is followed by some sweet and profound words that fell from Baba's mouth after the noon arati in Masjid(Dwarkamai). From verse 143.
Sweet words from Sai Baba's mouth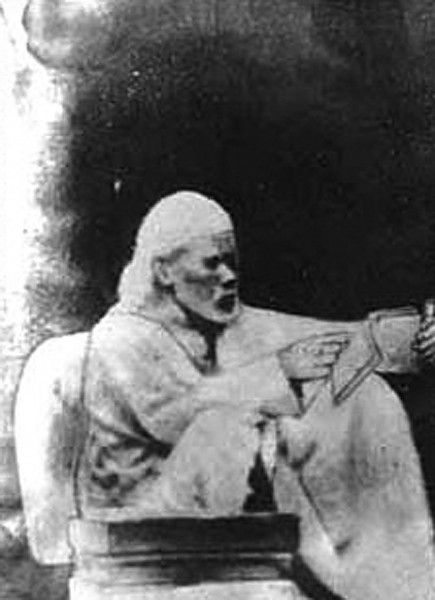 After the midday arati when the devotees were about to go to their respectives houses, Baba said
Wherever you are and whatever you do, always remember this one thing well, that I come to know all the time and in full details, whatever you are doing.
I fill the entire creation, within and without. In this Divine scheme I hold the reins.
I am the mother of this Universe and all the beings. I am the equilibrium of three gunas. I alone provoke all the senses. I am the Creator, the Sustainer and the destroyer.
One who turns his attention on me will not have any difficulties. But he who forget me will be ruthlessly whipped by the Maya.
This visible world is my manifestation, it may be a worm or an ant, pauper or a king. This infinite creation is really Baba's very self.
Hemadpant's inspirational thoughts
After writing the sweet words from sai Baba's mouth, Hemadpant write about the feelings he got while writing the sacred Sai SatCharitra. Between God and the saints there is no separateness. Thier incarnation is for the sake of upliftment of both animate and inanimate creations, equally.
If one wants to get absorbed totally at the guru's sacred feet, he should go on singing the praise of the guru, or at least listen to such stories with devoted mind.  A seeker should listen to it in such a way that the distinction between the listeners and what is being  listened is lost. He will get into the state of Unmana, and will experience the God Almighty.
If one who is deeply engrossed in the worldly life and by chance if he listens to a saint's story. The nature of such stories is such that he will derive benefit from it without any effort from his part. So, if it is listened with devot heart, how great the merit will the stories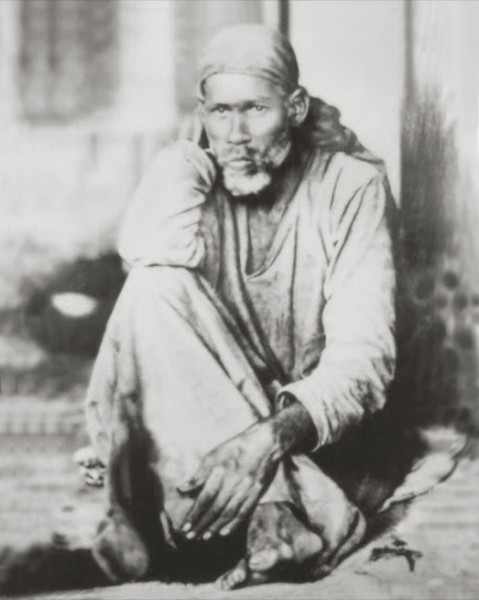 bring! The listeners should think about this for their own benefit.
By listening to the stories with devote heart, a love and fondness for the guru will arise and gradually a state of highest well-being will set in. No other disciplines or religious observance will be required thereafter. Thus when the mind is trained, longing for listening to the tales will grow and the bondage to the sensual pleasure will break away on its own. A state of supreme bliss will then be experienced.
After hearing Sai Baba's words hemadpant resolved that he would give up serving men and would devote himself only to the service of guru. Even after the resolve, there was a restlessness and longing in his heart, "Some job he will get", Baba had said in reply. Will he get the job and get the proof of it?
Hemadpant gets a job for a short period and thereafter is happily in service of Sai Baba
For Baba's words are never in vain. And so maybe he will again be connected with a job in serving men; but it will never bring him any real benefit. Although the question of his(Hemadpant's) job was placed by Anna spontaneously, Hemadpant too had a desire for getting a job. He deeply wanted a job so that he could support his family. Baba gave him a sugar-coated pill by the way of remedy.  As his heart wished he got an offer of a job, which tasted sweet to him. For the greed of money to support his family he readily accepted the job.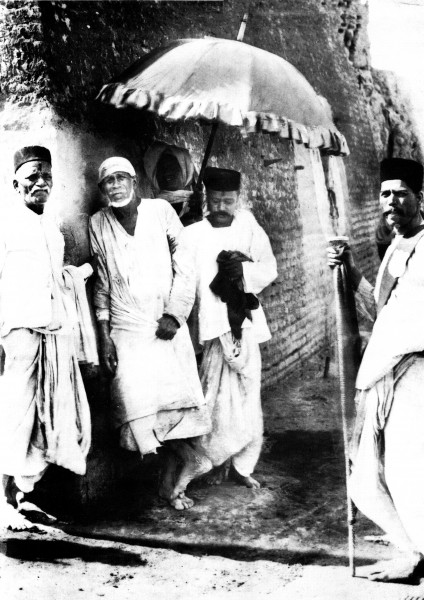 But how long that sweetness of what he had desired would last? Afterwards it was the sweetness of Baba's presence which tasted so excellent! The employment he got went away as unexpectedly as it had come. Sai Baba put Hemadpant back in his place, which was His service which brought him true happiness.
Hemadpant's thoughts on significance of Guru
The universe, full with animate and inanimate things is manifestation of God. But the God is beyond even the universe; and the supreme beyond all. God is not separate from worldly affairs but the worldly affairs are different from God. God is the source of all the worlds.
There are eight places of worship such as idol, sacrificial altar, fire, heart, sun, water a brahmin and Gurudev. Compared to everything Guru is the best. Sri Krishna the Supreme Brahman himself caught the feet of Guru Sandipani and said, "When the Sadguru is remembered I am pleased. Singing of the praises of a Sadguru is thousandfold more dearer to me than that of Mine.
The one who turns his back on guru is really unfortunate. He has to suffer the journey on life and death. He ruins the prospects of self upliftment.
Births and deaths, we are entangled in this. So let us listen to the guru's story to our heart's content and get the freedom. Stories that comes out of saint's lips opens up the knots of ignorance within us and also becomes or preservers in times of calamities. Hence let us store those stories in our hearts.
We don't know what trying times might be ahead or what forces will be at work on us. For all these is the sport of Allahmiya and we the devotees are the spectators. Hemadpant thinks, 'Without possessing any powers of wisdom, I got an all-powerful guru Sai Samarth. Should this be considered through the power of destiny? No, this too his His leela.'
Most holy is the Life of Sai. Those who reads it and listens to it are both blessed as their hearts will be purified. When the stories are lovingly listened to, the worldly sorrows will disappear.
<<< Previous Story                                                     Next Story >>>
Back to the list of Stories from Shri Sai SatCharitra